3KW Air-cooled Chiller di Industri Elektrik

Kapasitas pendinginan pendingin tipe pendingin air ini adalah 3kw / jam, suhu pendinginan adalah 5 derajat ke suhu kamar, tentu saja, itu juga dapat disesuaikan di bawah 0 ℃. Air cooled chiller lebih rendah dari harga jenis pendingin udara. Efisiensi energi chiller didinginkan air lebih tinggi 300 ~ 500 kcal / jam dibandingkan dengan pendingin udara cooeld.
Fitur pendingin air chiller
1. Air-cooled chillers berukuran kecil dan memiliki kapasitas pendinginan yang besar.
2. Kompresor diimpor dari merek-merek terkenal di dunia. Kompresor memiliki kinerja suhu rendah yang sangat baik dan tahan lama.
3. Produk dirancang sesuai dengan aplikasi industri. Pompa sirkulasi suhu rendah yang terpasang di dalam dan tangki air dingin stainless steel sangat mudah digunakan.

4. Bahan yang digunakan bahan anti-korosi, efektif mencegah karat, korosi, jumlah pengontrol LED mikro dengan tampilan suhu, mengatur suhu, secara otomatis menyesuaikan suhu air beku dan perlindungan penundaan kompresor.
5., Dilengkapi dengan satu set lengkap lampu indikator, switch, operasi sekilas, built-in indikator tingkat air elektronik dan perangkat alarm, alarm tingkat air yang rendah, operator melalui panel kontrol dapat memahami tingkat tangki air beku, tepat waktu replenishment, desain modular yang unik.
6. Setiap sistem kompresor independen, bahkan jika sistem mengalami masalah, itu tidak akan mempengaruhi operasi normal sistem lain.
Technical Parameter of Water Cooled Water Chiller
Unit


HS-03W
HS-04W
HS-05W
Cooling Capacity
Kw/h
8.52
11.36
14.2
Kcal/h
7337
9783
12229
Temperature Range
3°C to Room Temperature(Below 0°C Can be Customized)
Power Supply
3N-380V/415V 50Hz/60Hz

Refrigerant
R134a/R22/R407c

Compressor
Type
Hermetic Scroll Type or Piston

Power(kw)
2.2
3
3.75
Condenser
Pipe Diameter(G)

G 3/4''
G 3/4''
G 1''
Form
Efficient copper tube shell and tube condenser

Evaporator
m³/h

1.65
2.14
2.75
Pipe Diameter(G)

G 3/4''
G 3/4''
G 1''

Circulating Pump

Power (Kw)
0.375
0.375
0.375
Pump Lift (m)
22
22
23
Machine Size
L (m)
0.85
0.85
0.85
W (m)
0.52
0.52
0.52
H (m)
0.85
0.85
0.85
Weight
Kg
120
140
150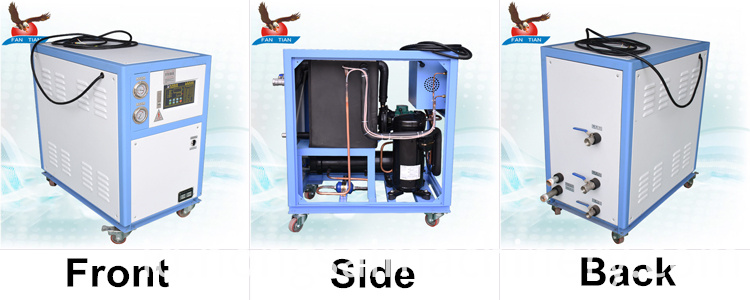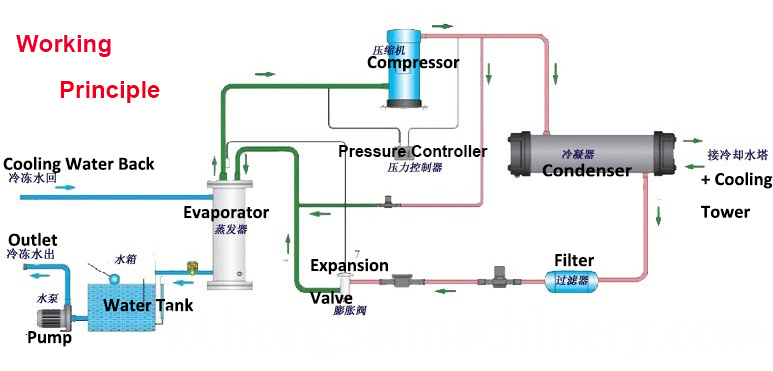 Aplikasi
Industri chiller air dapat digunakan dalam proses pendinginan seperti jamur dalam industri plastik, solusi plating dalam industri elektroplating, industri elektronik, industri kimia, industri farmasi, industri makanan, industri penyimpanan segar dan sistem pendingin di AC.
Selain itu, mereka juga dapat digunakan dalam laser, industri kimia, oksidasi elektroplating, mesin yang tepat, tinta cetak, percetakan, peralatan medis, cetak injeksi, blister, makanan, pendinginan, roller interlining boiler, industri papan sirkuit elektronik; atau penyolderan gelombang dan penyolderan reflow, ruang perawatan pemurnian, perangkat keras, pembersihan ultrasonik, pemanas atau bak pendingin, penyimpanan medis, pengelasan, peniupan botol, pengecoran, perawatan permukaan, pembuatan kertas, aluminium, kerajinan rumput, pemrosesan perhiasan, kulit, budidaya, dll. .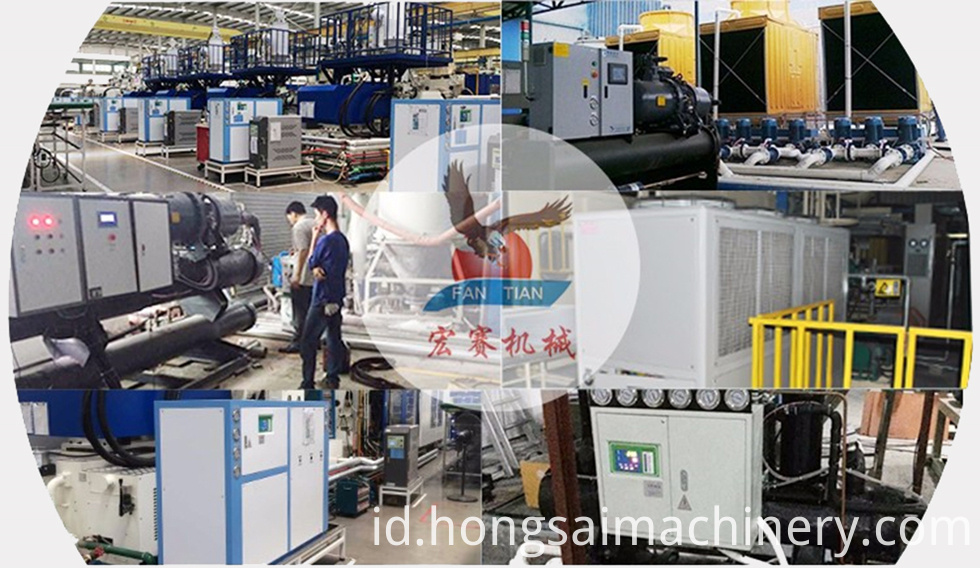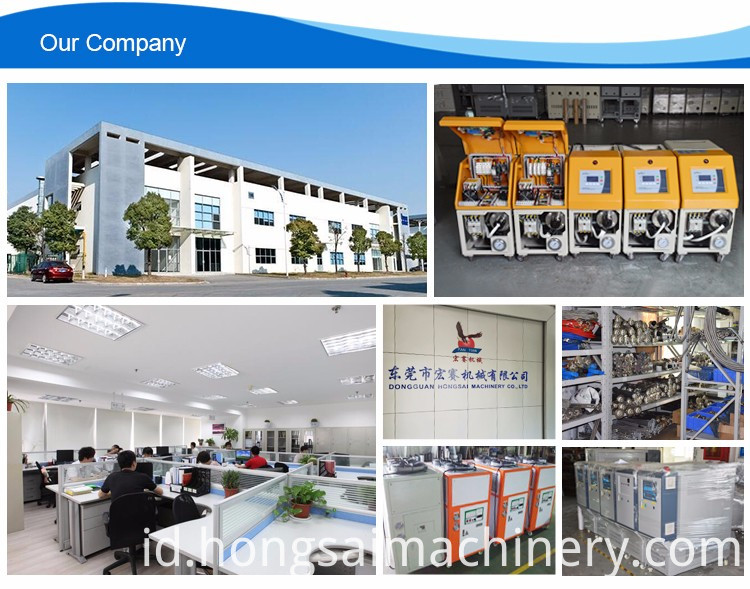 Dongguan Hongsai Machinery Co, Ltd adalah perusahaan teknologi tinggi yang mengkhususkan diri dalam teknik kontrol suhu dengan 16 tahun pengalaman produksi yang kaya. Ini adalah perusahaan terintegrasi yang mencakup bidang desain produk, manufaktur, dan pemasaran. Produk utama: Seri Chiller, termasuk chiller berpendingin air, chiller berpendingin udara, chiller tipe terbuka, chiller sekrup, chiller industri, chiller air suhu rendah, chiller air bersirkulasi, freezer, chiller kecil dll; Mold Temperature Machine Series: Pemanasan dan fasilitas pengontrol suhu, termasuk mesin suhu cetakan sirkulasi air, mesin cetakan suhu sirkulasi oli, pengontrol suhu mekanis karet, mesin cetakan suhu cetakan aluminium-magnesium alloy, mesin suhu cetakan injeksi dan CJCM. Didirikan pada tahun 2013, Hongsai terus memperkenalkan keterampilan dan fasilitas lanjutan dari luar negeri dan telah mencapai kerjasama dan komunikasi yang luas dengan para ahli.
Sertifikasi


Kategori Produk : Air Cooled Chiller > HS-60W Air Cooled Chiller